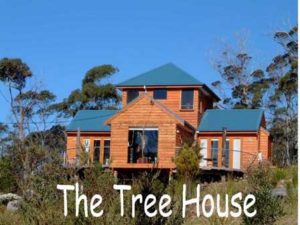 The Tree House
For accommodation on Bruny Island,  The Tree House is a unique and secluded tranquil central location, with spectacular water and bush views. Over-looking  Sheepwash Bay, the holiday house provides comfortable self-contained accommodation where you can just sit on the deck and enjoy the view of the water and the mountains. Base yourself here to explore the islands' wilderness and gourmet food trail. The house sits on a large secluded bush block close to the water. Every room has a view of the sea. It's a romantic place and is ideal for couples or small groups up to four people. There is a local walking track at the bottom of the house. The Dray track follows the foreshore all the way to the Alonnah jetty. You can also walk to the general store and the Bruny Hotel. The beach at Alonnah is quite safe for a swim, and there is plenty of room on the beach. It's a short walk from The Tree House.
Bruny Island
The island is located south of Hobart and comprises of a north and south Island that is joined by a sandy isthmus. There are many natural wonders on the island, including a strong aboriginal heritage with strong connections to the land. You can spend days exploring Bruny island and get into activities like surfing, sea kayaking, bush walking, mountain bike riding and fishing.
National Parks protect much of the island. Some of the great places to visit are Cloudy Bay, Adventure Bay, Bruny Island Light House and the penguins at the isthmus. There are many places to walk and enjoy the fauna of the island.
Local artisans create wonderful island food. You can sample wine, beer, cider, cheese, fudge, oysters and berries. Look at the our things to do page for more tips on how to enjoy Bruny Island.
The accommodation
The Tree House is independently rated by AAA Tourism, as 4 Stars. The self-contained accommodation is located on a hill overlooking the water and the Hartz mountains beyond, The Tree House accommodation offers open plan living along with a fully equipped kitchen to help make your stay enjoyable and relaxing. Hotel Bruny is just down the road if you don't feel like cooking. Inside, the house has polished wooden floorboards and rugs. Every room has a view of the sea. There is a wood heater to enjoy cosy nights indoors. There is a reverse cycle air conditioner  to keep you cool and warm. If you feel like keeping in touch with the outside world, we have NBN satellite to keep you up to date and in contact with your friends. WiFi is available throughout the entire house.
Accreditation
The Tree House accommodation is an accredited tourism accommodation business. We strive hard to maintain our reputation and ensure that our guests enjoy their experience on Bruny Island.
You get the entire house and land to enjoy!
To check dates and book The Tree House: